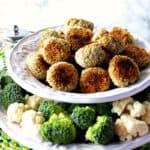 If your kids are finicky about eating their veggies, try serving them these Crunchy Creamy Broccoli Cauliflower Vegetable Tots. They could be a game changer!
Course:
Vegetables - Side Dish
2

packages

10 ounces each frozen broccoli and cauliflower, cooked according to package directions and cooled.

1½

teaspoons

salt

½

teaspoon

pepper

¼

cup

freshly grated Parmesan cheese

1

egg

3½

tablespoons

all-purpose flour

substitute almond flour if making gluten free)

1

cup

panko crumbs

or for gluten free tots, 1 additional cup grated Parmesan cheese
Preheat oven to 400 degrees.

In a food processor, pulse the cooked and cooled vegetables along with the salt and pepper until creamy but still slightly chunky.

Remove the vegetables to a bowl and mix with ¼ cup Parmesan cheese, egg and flour.

Place the panko bread crumbs into a shallow dish.

Use two tablespoons or a small ice cream scoop to drop large dollops of the vegetable mix into the dish of panko crumbs.

Gently roll the vegetable tots in the panko crumbs until thoroughly coated.

Place the coated tots on a baking sheet that has been liberally sprayed with baking or olive oil spray.

Bake the broccoli cauliflower tots in a preheated 400 degree oven for 15 minutes.

Remove the baking sheet and turn the tots over. Return the vegetable tots to the oven for an additional 15 minutes or until browned and crispy.

Serve hot with your favorite dipping sauce or dressing.
Tools and equipment:
food processor or high speed blender
medium bowl
spatula or wooden spoon
shallow dish
mini ice cream scoop or two tablespoons
baking spray or olive oil spray
baking sheet