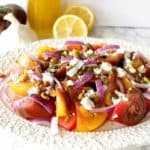 Colorful heirloom tomatoes take their rightful place in the spotlight in this delicious and flavorful Heirloom Tomato Salad with Garlic Lemon Infused Olive Oil.
For the infused oil
2

cups

Extra virgin olive oil

4

cloves

garlic

smashed

rind from 1 lemon
Tools and equipment
small sauce pan

bottle or jar with lid to store the olive oil

funnel

if needed, for transferring the oil to a bottle or jar

cutting board

chef's knife

serrated knife

for slicing tomatoes

serving platter
To make the infused oil
Heat the olive oil, garlic, and lemon rind in a small saucepan over medium/low heat for 15 minutes.

Remove the oil from the heat and allow to cool before adding to a bottle or jar.
To make the tomato salad
Place the tomatoes and onion on a serving platter.

Season with salt and pepper to taste.

Squeeze the lemon juice over the tomatoes and onion.

Drizzle the tomatoes with the garlic lemon infused olive oil.

Top the salad with the thyme leaves, goat cheese, and pistachios.

Serve and enjoy.
The infused olive oil can be stored in a closed jar or bottle for up to 2 weeks.
Use the oil on other veggies, or brush it on fish or seafood before cooking.