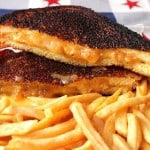 A grilled cheese sandwich for grown up tastes.
Cube the cheddar cheeses and pulse them in a food processor until crumbled.

Add the cubed brie (rind removed) and the white wine. Pulse until combined but not packed tightly.

Transfer the cheese into a medium bowl and set aside.

In another medium bowl, stir together the softened butter, honey and Dijon mustard until combined.

Butter one side of each slice of bread.

Place 6 slices of bread, butter side down on a working surface.

Divide and spread the cheese evenly among the 6 slices of bread.

Top the cheese of each sandwich evenly with the French fried onions.

Place the remaining buttered bread, butter side up, on top of each sandwich.

Preheat a large skillet on a medium heat.

Place 2 sandwiches in the skillet and cook on the first side until golden and the cheese is just beginning to melt.

Use a spatula to flip the sandwiches, cover if needed (to completely melt the cheese) and continue cooking on the other side until golden.

Cut in half, and serve hot.
A box grater can be used in place of a food processor (if needed) to shred the cheese.
The aluminum foil can be used to cover the sandwiches as the cook on the second side.
Feel free to switch up the cheese on these if you like, but if you're using a dryer cheese (such as the aged cheddar) then I still recommend combining it with the brie and wine, which will act like a binder.
Depending on the size of your skillet, you may be able to cook more or less sandwiches at a time. Make sure not to over crowd the skillet to leave ample room for flipping.
Adapted from From America's Test Kitchen