Here we are already deep into October and it's one of the last Thrive at Five Weekly Meal Planning posts I'll be bringing you. Since our Thrive at Five group has disbanded, this Friday recipe roundup feature on my blog will be going through a metamorphosis. But more on that at the end of this post.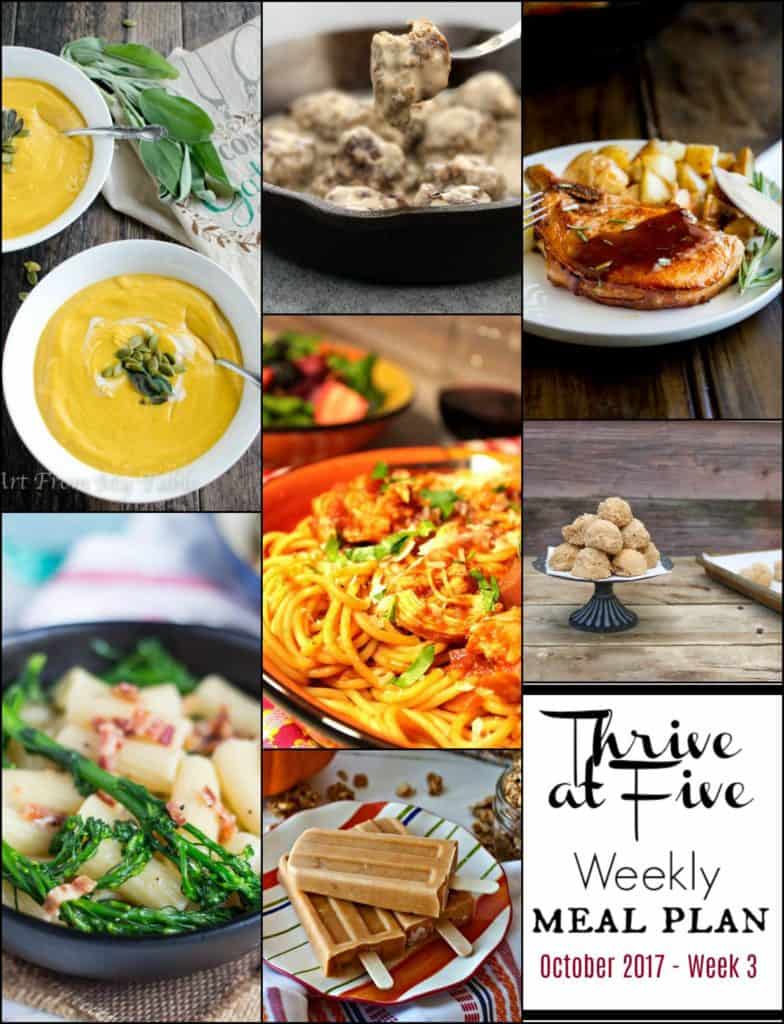 This week the Thrive At Five group of food bloggers is bringing you five dinner option suggestions and two bonus recipes; one is a surprising idea for breakfast and the other is a delicious pumpkin one for dessert.
The weekly meal planning dinner suggestions we're bringing you this week are, as always, seasonal, easy, fast, and delicious. By clicking on the recipe titles below, you'll be taken directly to that food bloggers site where you can find out more about that particular recipe and then learn (and print) all about the ingredient list and cooking instructions.
Smoky Pumpkin Soup from Art From My Table – This soup looks thick and hearty. I love that she's added a smoky element and sage. I love sage!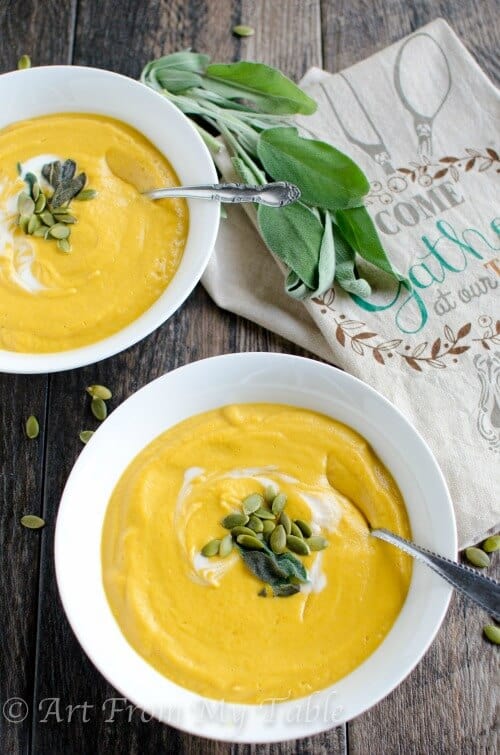 Easy Maple Glazed Pork Chops from Sprinkles & Sprouts – You can never go wrong with pork chops for dinner. This maple sauce is the perfect accompaniment for these beautiful chops!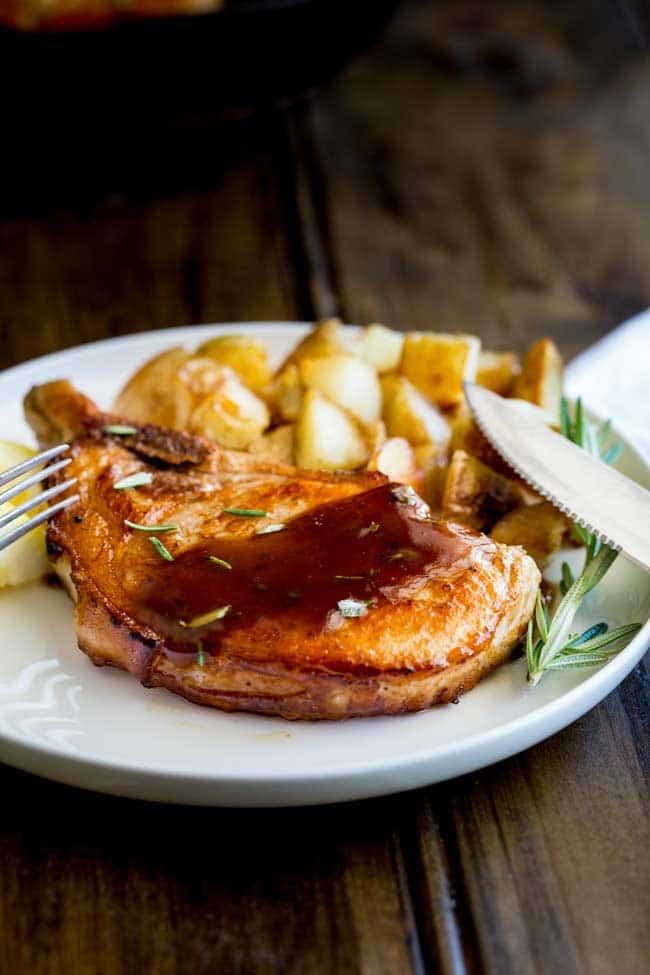 Swedish Meatballs from Carrie's Home Cooking – Meatballs are one of my very favorite things to eat. Swedish meatballs are always a family favorite around our table.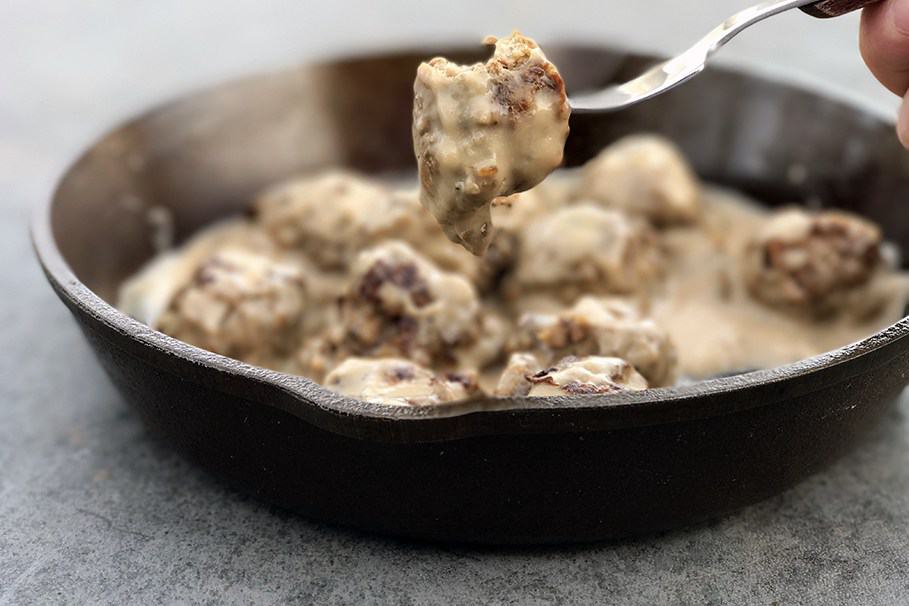 Pancetta Broccoli Pasta from The Cook's Pyjamas – Love, love, love pasta and veggies! Also, love how fast and easy this dinner is to prepare!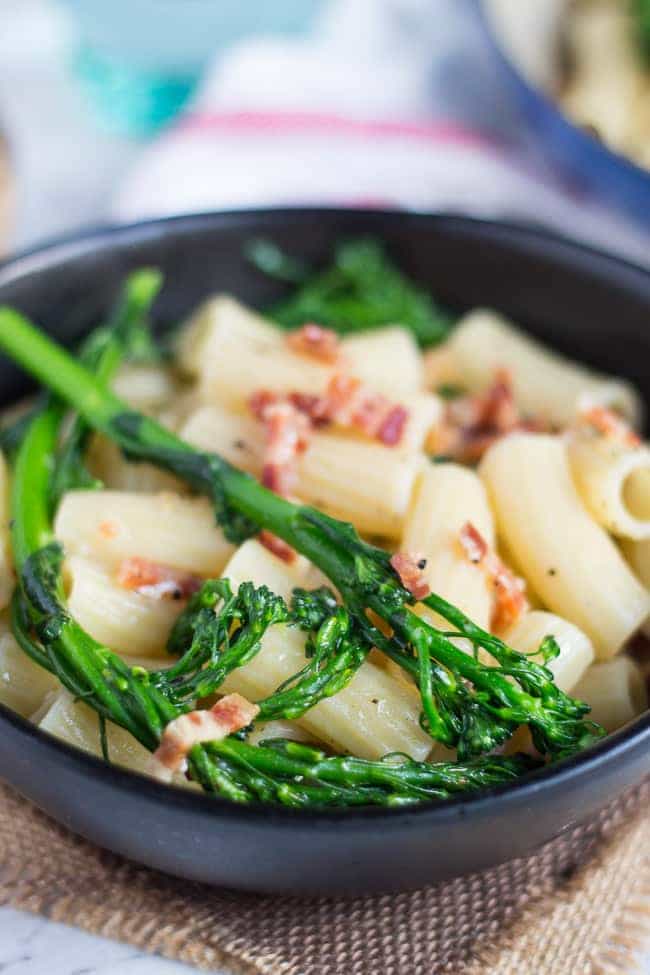 Fast French Spaghetti from (yours truly) Kudos Kitchen – This recipe is one of my favorites. It takes advantage of store-bought rotisserie chicken and comes together in the blink of an eye. The kiddos will LOVE this recipe!
And your bonus recipes for this week are;
Pumpkin Parfait Breakfast Popsicles from Food, Folks & Fun – Have you ever heard of a breakfast popsicle? I never had…until now. What a fun and delicious idea! Seasonal too!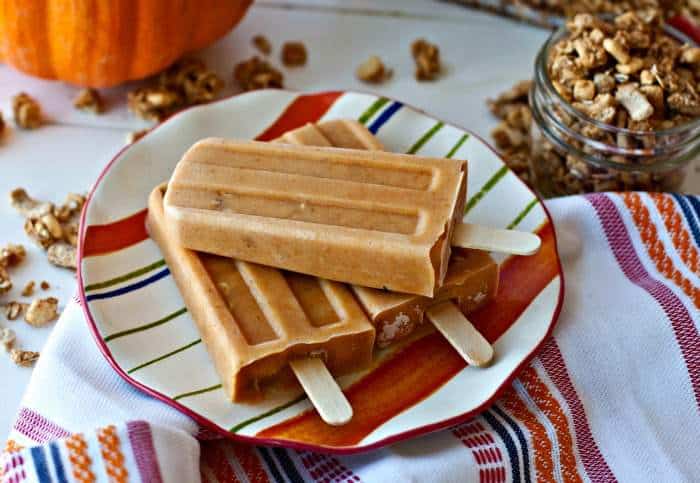 Pumpkin Cheesecake Bites from Carrie's Home Cooking – For when you need a bite of something sweet after dinner but don't want to splurge on a whole slice of cheesecake. These bites are just the thing you'll be craving.
I hope you've enjoyed all the recipes the Thrive At Five group of food bloggers have brought to you for your weekly meal planning for the fourth week of September as much as we've enjoyed bringing them to you.
Should you have any questions or comments for me regarding these, or any recipe you see on my blog, please don't hesitate to contact me directly or leave a comment for me in the comment section. It is always my pleasure to answer any and all questions as soon as possible.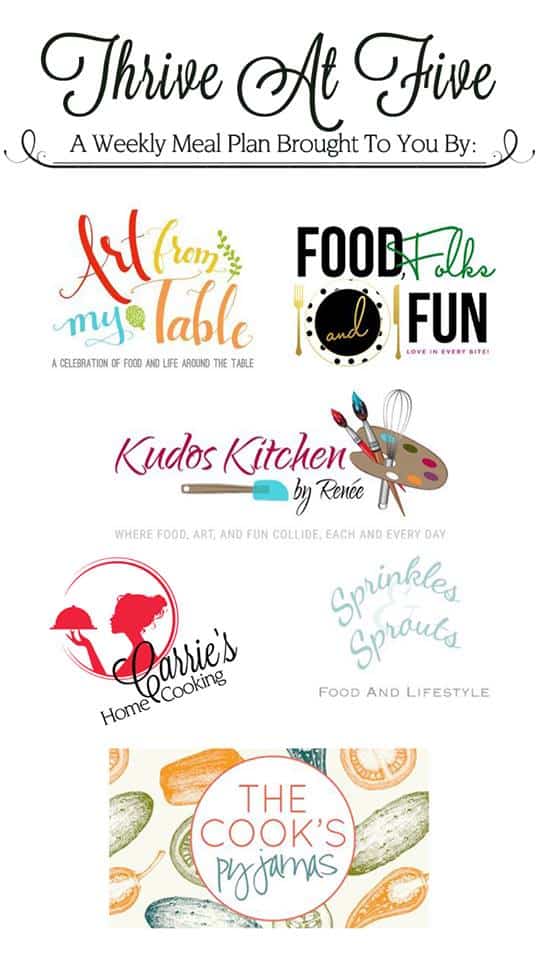 As I mentioned earlier, the Friday Thrive At Five weekly meal planning feature will be discontinued at the end of this month. However, since I've been a member of this group I've found out just how much I enjoy sharing other food blogger's recipes on my site and have decided that I'll continue doing so every week. Each Friday I'll be running a theme post and will be sharing as many recipes as I can from all sorts of food bloggers from around the web.
The month of November will naturally focus on Thanksgiving (my favorite holiday of all), so I'm super stoked to bring you tons and tons of recipes from appetizers, sides, mains, desserts, and even leftover ideas. I've put out some recipe request forms to a bunch of my blogging friends asking if they'd like their recipes featured on my site and the response has been overwhelming! I can honestly say, without a doubt, this will be a delicious and fun Friday feature you won't want to miss, week after week. Woo Hoo! Be excited. Be very excited!! 🙂
For additional information regarding my Kudos Kitchen recipes, posts, and my hand painted glassware and fabric items, please follow me;
FACEBOOK, PINTEREST, INSTAGRAM, TWITTER, YOUTUBE and MY PAINT SHOP
Kudos Kitchen by Renée ~ Where food, art, and fun collide each and every day!
Until we eat again, I hope you have a delicious day!