Great Grandma's Old-Fashioned Applesauce Cake goes back many generations in my family. Great Grandma Patterson may have called it Fence Cake, but I call it delicious!!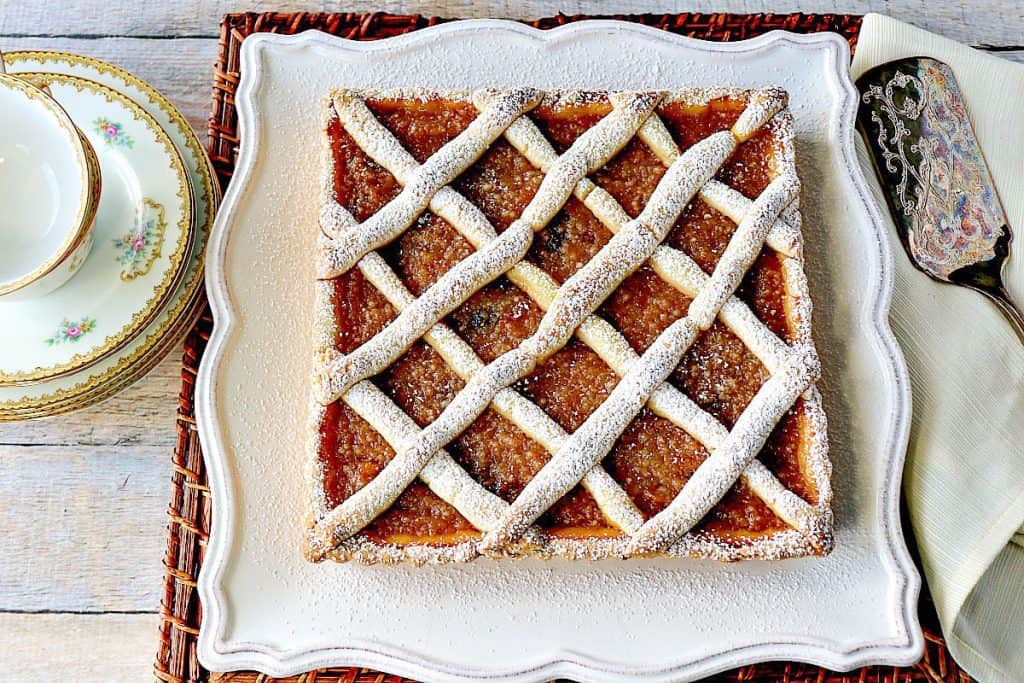 I'm updating this recipe post for my Great Grandma's Old-Fashioned Applesauce Cake (aka Fence Cake), which I originally published back in June of 2011.
The recipe remains the same but the photos are new, and this post now features a printable recipe card along with the nutritional information.
**Please Note – The printable recipe card with detailed instructions and complete ingredient measurements for making Great Grandma's Old-Fashioned Applesauce Cake is available near the end of this post.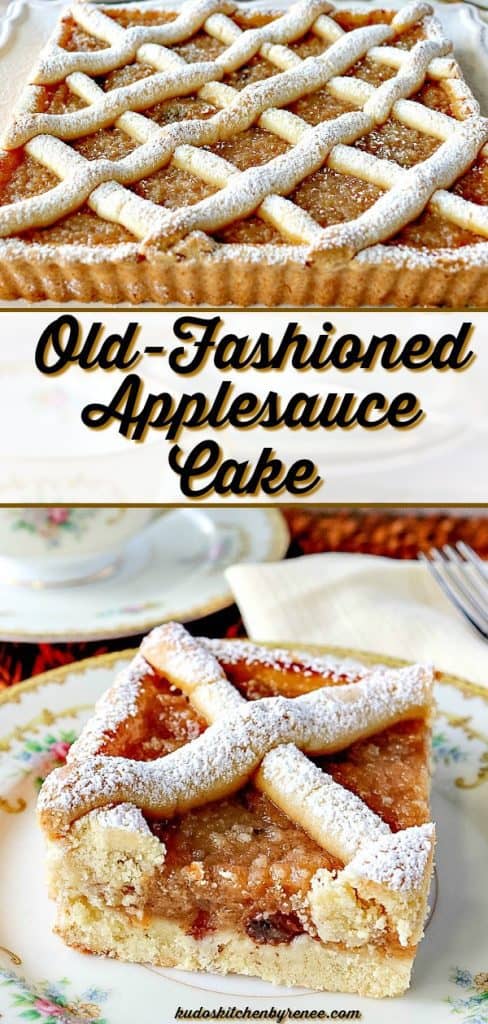 The ingredient list for making Old-Fashioned Applesauce Cake;
shortening

butter

sugar

eggs

flour

vanilla

applesauce

cinnamon

tapioca

salt

confectioners sugar (optional)
Great Grandma's Old-Fashioned Applesauce Cake (aka Fence Cake) recipe has been in my family for generations and has always been a favorite of my dad's. His grandma was my great-grandma Patterson and I have several fond memories of her.
I found my great grandma's recipe as I was going through my recipe file and thought this would be the perfect time of the year to make it in honor of my dad.
Below is the original photo I shared in 2011.
Special note;
The crust for this old-fashioned applesauce cake is very similar to a shortbread crust, in taste. If for any reason you're squeamish about using shortening, feel free to substitute with more butter. I promise my great grandma Patterson will never know! 😉
The instructions for making Great Grandma's Old-Fashioned Applesauce Cake are pretty straightforward. Follow along and I'll walk you through them;
Stir the tapioca into the applesauce and set aside.

In a large bowl, blend together the softened butter and sugar.

Add the eggs to the creamed butter and sugar mixture and blend.

Slowly incorporate half of the flour into the butter-sugar mixture.

Add the vanilla and blend.

Add the remaining flour to the bowl, along with the salt and cinnamon.

Slowly blend until the mixture comes together to form a soft dough.

Prepare a 9 x 13 baking dish or (pictured) a 12 x 12 tart pan by spraying liberally with baking spray.

Add 2/3's of the dough into the prepared pan.

Gently press and work the dough evenly on the bottom of the prepared dish as well as up the sides (if using a tart pan). If using a 9 x 13 pan there is no need to press the crust up the sides.

Use the remaining dough to gently roll out long snake ropes. *Note – a very light touch is best for rolling this dough. Using too much force will make it harder to roll the ropes without breaking.
Garnish the top of the applesauce cake with by overlapping the ropes in a diagonal fashion.

Use a knife to trim any excess dough you may have around the edge of the pan.

Bake the applesauce cake in a preheated 400-degree oven for approximately 40 minutes, or until the crust is a lovely golden brown.

Remove the cake from the oven and cool on a rack for 15 minutes. *Note – if using a tart pan, to remove the side of the pan, use a small bowl to support the base of the pan, and let the sides fall away.

Cool the applesauce completely before dusting with confectioners

sugar.

The memories;
Since I posted this recipe for my Great Grandma's Applesauce Cake (aka Fence Cake) back in 2011, and it holds such great memories which are near and dear to my heart, below is what I originally wrote about this delicious, family, time-honored dessert.
For many, many years she and my great-grandpa Patterson ran a resort in Copper Falls, MI called "Patterson's Manitowish Rivers Resort" which was geared toward hunters and fishermen alike. After my great-grandfather passed away, Barbara Patterson ran the resort all on her own. I can only imagine what long and hard work that must have been for her.
I vaguely remember being at the resort once or twice when I was a child with my twin brother, older sister, my mom and dad. I recall the big stone fireplace in the living room and the garbage dump (not far away), where we used to go bear watching as a family in the car. Times were simpler then, and entertainment had to be cheap (albeit it a bit dangerous). What were we thinking? LOL
Great-grandma Patterson would do all her cooking and baking on a big old wood burning stove/oven. I'm confident she fed those hungry hunters and fisherman well. I can proudly tell you that the china plates and serving pieces (pictured) were handed down to me from her, many years after her passing. They are the same ones that she used to feed those hungry hunters and fishers. I truly treasure them!
Looking back now I wish I had more memories of her than I do, but thankfully I have this recipe to help keep me close to her and who she was. Priceless.
I have modified my grandma's original recipe slightly. I've cut the amount of shortening in half and substituted butter for the remaining half. I have also added cinnamon and vanilla, and I doubled the recipe. I think great-grandma Patterson would approve! 🙂
The flavor is very much like a rich, buttery shortbread cookie with the added bonus of smooth and fruity applesauce.
Cake? Maybe not so much.
Delicious? Yes, definitely!
This is what a memory tastes like!
I hope I did you proud, Great Grandma Patterson! 🙂
Below is a photo from 2011 where I used a 9 x 13 baking sheet to make this applesauce cake, and below that is a photo of my Great Grandma Patterson with her second husband, Jack.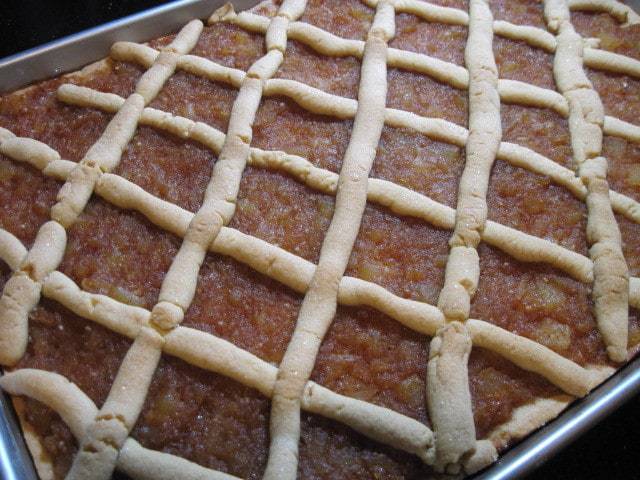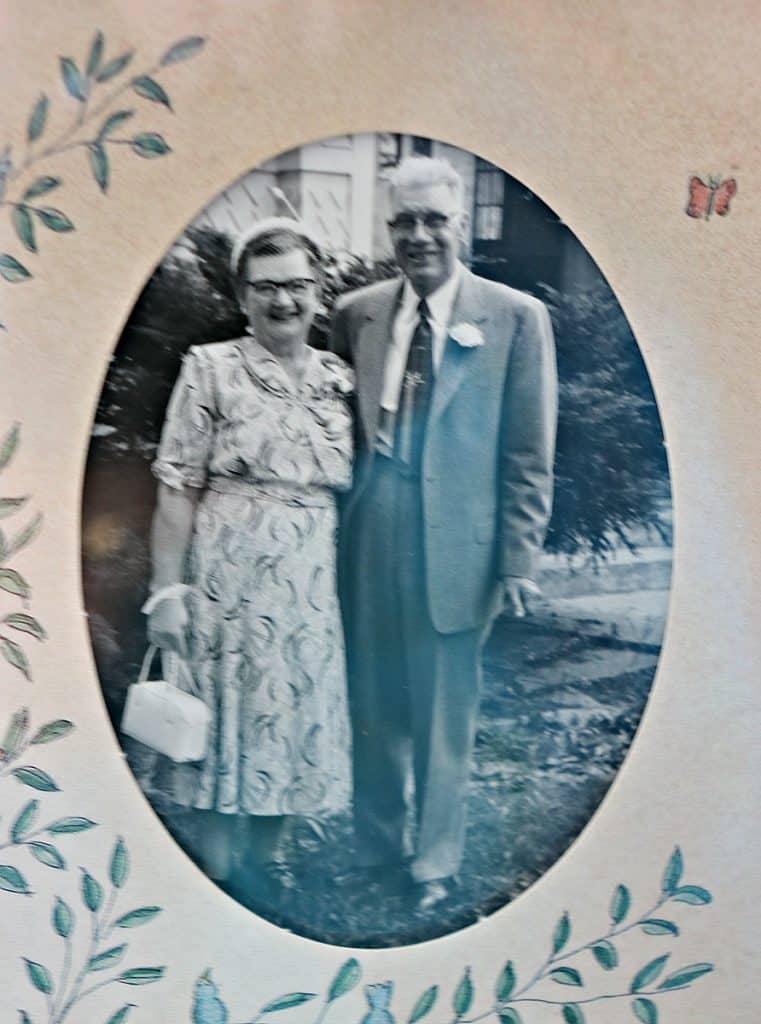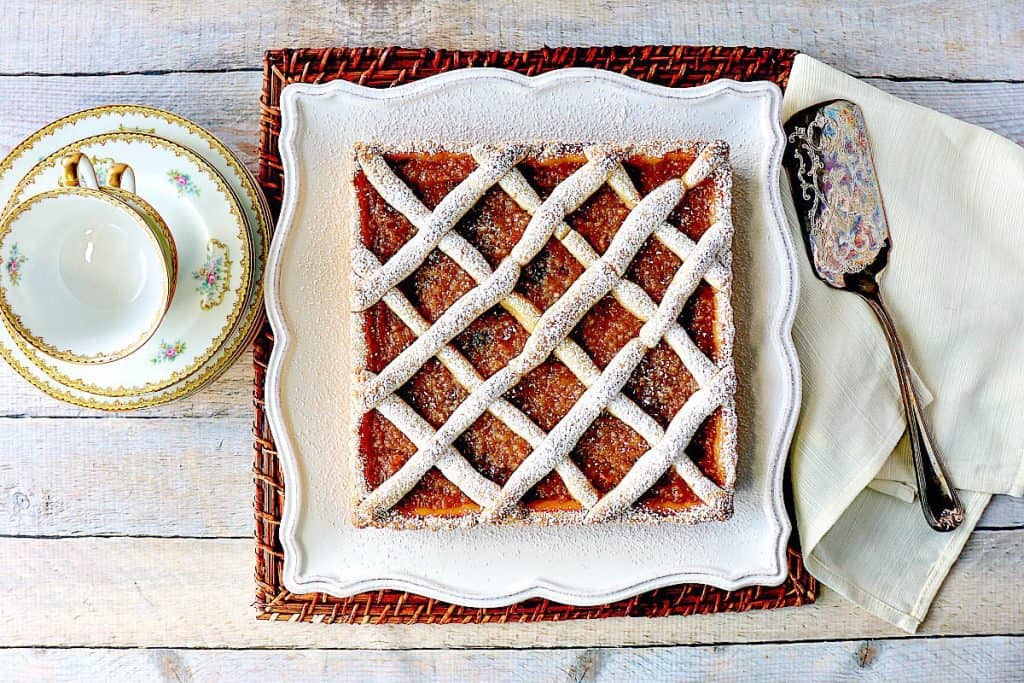 For some of my other delicious recipes (savory and sweet) using apples, please click on the following titles for;
Below is the printable recipe card for today's Old-Fashioned Applesauce Cake. If you've enjoyed this recipe and look forward to making it (or have already made it), I'd appreciate if you'd take a moment to give it some feedback by way of stars near the comment section at the end of this post. Thank you so much!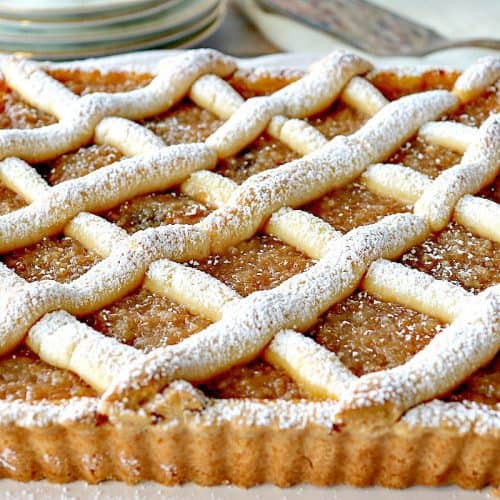 Old-Fashioned Applesauce Cake
Great Grandma's Old-Fashioned Applesauce Cake goes back generations in my family. Grandma called it Fence Cake, but I call it delicious.
Ingredients
1½

tablespoons

tapioca

3

cups

applesauce

1¼

teaspoons

ground cinnamon

divided

3/4

cup

shortening

3/4

cup

butter

softened

½

cup

granulated sugar

2

large

eggs

1

teaspoon

pure vanilla extract

3¼

cups

all-purpose flour

1

teaspoon

salt
Instructions
Preheat oven to 400-degrees.

In a small bowl, mix the applesauce, 1 teaspoon ground cinnamon, and tapioca. Set aside while preparing the crust.

In a large bowl with an electric mixer or stand mixer, cream the shortening, butter, and sugar.

Add the vanilla and eggs to the butter mixture, and blend to combine.

Add the flour, salt, and ¼ teaspoon ground cinnamon to the mixing bowl and blend until a soft dough forms.

Add 3/4's of the dough into a prepared 12″ tart pan, or a 9 x 13 baking pan that has been sprayed liberally with baking spray.

Press the dough evenly over the base of the prepared pan, and if using a tart pan, press the dough evenly up the sides of the pan.

Spread the prepared applesauce evenly over the crust.

With the remaining dough, roll out long ropes and lay them in a cross hatch pattern on top of the applesauce. *Note – be gentle with the dough ropes. A gentle touch works better than a heavy hand.

Bake in the preheated oven for approximately 25 minutes or until nicely browned.

Cool on a cooling rack for 30 minutes and then carefully remove the sides from the tart pan (if using), and allow to cool completely before dusting with confectioners sugar.

Chill until ready to serve. Serv

e chilled or at room temperature.
Notes
Tools and equipment;
12″ square tart pan OR 9 x 13 baking dish, large bowl, hand mixer, OR stand mixer with paddle attachment, baking spray, measuring cups, measuring spoons, wooden spoons or spatula, cooling rack, baking sheet, small bowl.
Nutrition
Serving:
1
slice
Calories:
415
kcal
Carbohydrates:
42
g
Protein:
4
g
Fat:
25
g
Saturated Fat:
10
g
Cholesterol:
61
mg
Sodium:
309
mg
Potassium:
96
mg
Fiber:
1
g
Sugar:
14
g
Vitamin A:
415
IU
Vitamin C:
0.6
mg
Calcium:
18
mg
Iron:
1.9
mg
I sincerely hope you've enjoyed today's updated recipe for Great Grandma's Old-Fashioned Applesauce Cake as much as I've enjoyed bringing it to you!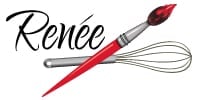 Should you have any questions regarding this recipe, or anything else you've seen on my site, please don't hesitate to contact me directly or leave me a comment in the comment section below. It is always my distinct pleasure to get back to you with a reply just as soon as I possibly can!
For additional information regarding my Kudos Kitchen recipes, and/or my hand painted glassware or fabric items, please follow me on;
FACEBOOK, PINTEREST, INSTAGRAM, TWITTER, and YOUTUBE
Kudos Kitchen by Renée ~ Cooking up artistically delicious family-friendly dishes from my Kudos Kitchen to yours!
Until we eat again, I hope you have a delicious day!