Our little Boston Terrier, Ivy, has a lot to say. From the freezing February temperatures, to how she keeps busy during the long winter days. Don't let that sad face fool you. She knows that she is one lucky dog… and that she's also our little drama queen.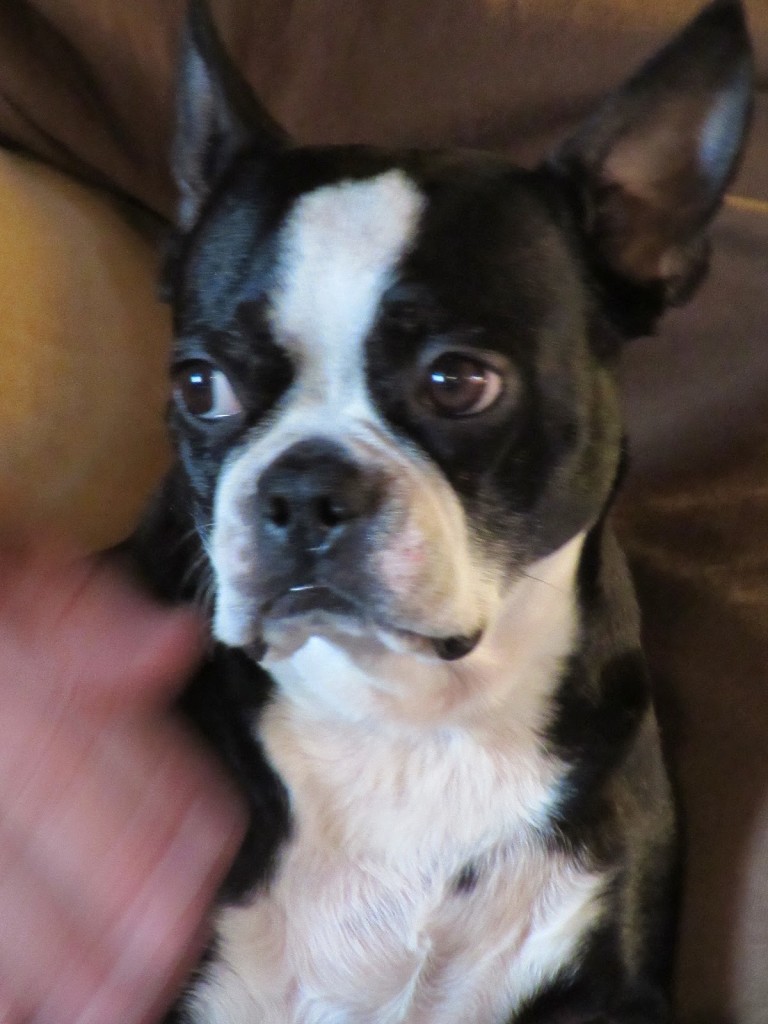 "Hi, everyone, Ivy speaking." "It's been such a long time since my mom has given me the time to sit at her computer and blog, that I'm not really quite sure where to start."
"I guess I'll start by saying that I really like that mom has opened up Woof Wednesdays to our readers and their pets, and that I've really enjoying seeing (and reading) all the fun things you've sent in and shared with us." "I may have two sisters, but I never get tired of making new friends, so please keep the photos and stories coming." "For information on how you can have your furkid featured in an upcoming Woof Wednesday edition, please click on the link at bottom of this post."
"Speaking of my sisters, here is a picture mom took of us all while we were spending some quality time on her bed." "It's rare that we're not under the covers these days, but we are all cozy on top of the warm, fuzzy blanket!"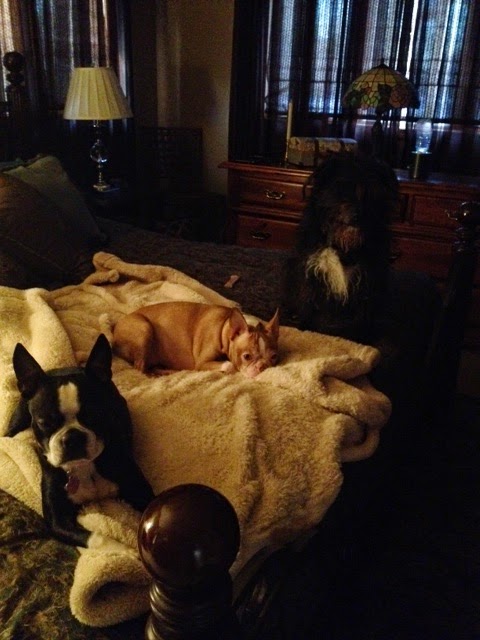 "This Winter has been really brutal for little dogs like us (Boston Terriers) that don't have much fur to keep us warm." "My sister Nellie (the one in the background) is a little better equipt to handle temperatures that dip below zero. But for Nutmeg and me, we need to get bundled up before we venture outside to do our business."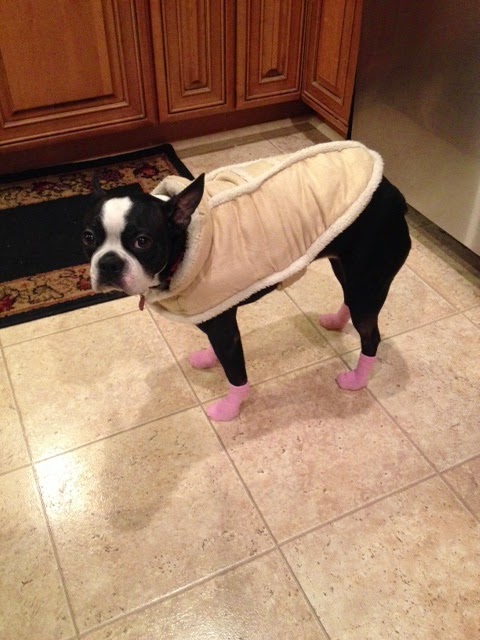 "It makes me very unhappy to have to be seen like this, but for the sake of the blog I'll put away my pride and post the pictures." "Mom and dad get a big kick out of seeing us all bundled up, and it annoys me to no end to hear their laughing." "Yeah, yeah, very funny you guys!"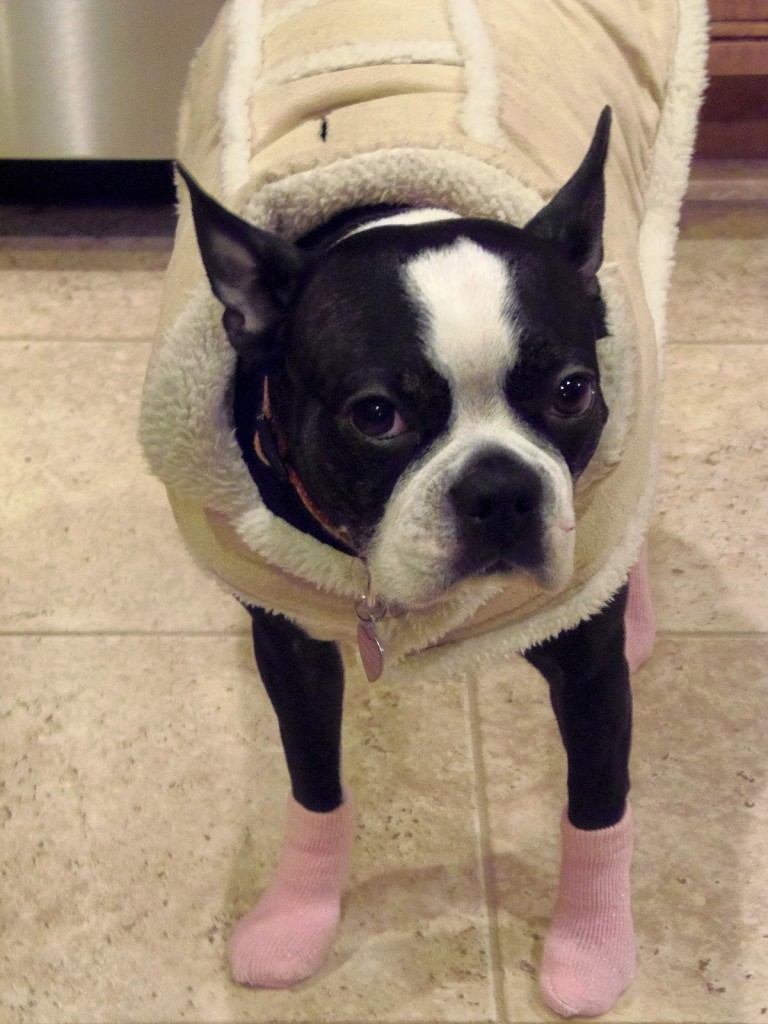 "Um, excuse me!" "I don't understand moms fascination with our butts." "What's up with that anyway???" "One of these days I'm going to take a picture of her butt and post it on-line to see how she likes it!" "Something tells me she wouldn't be at all happy!" "BOL" (barking out loud)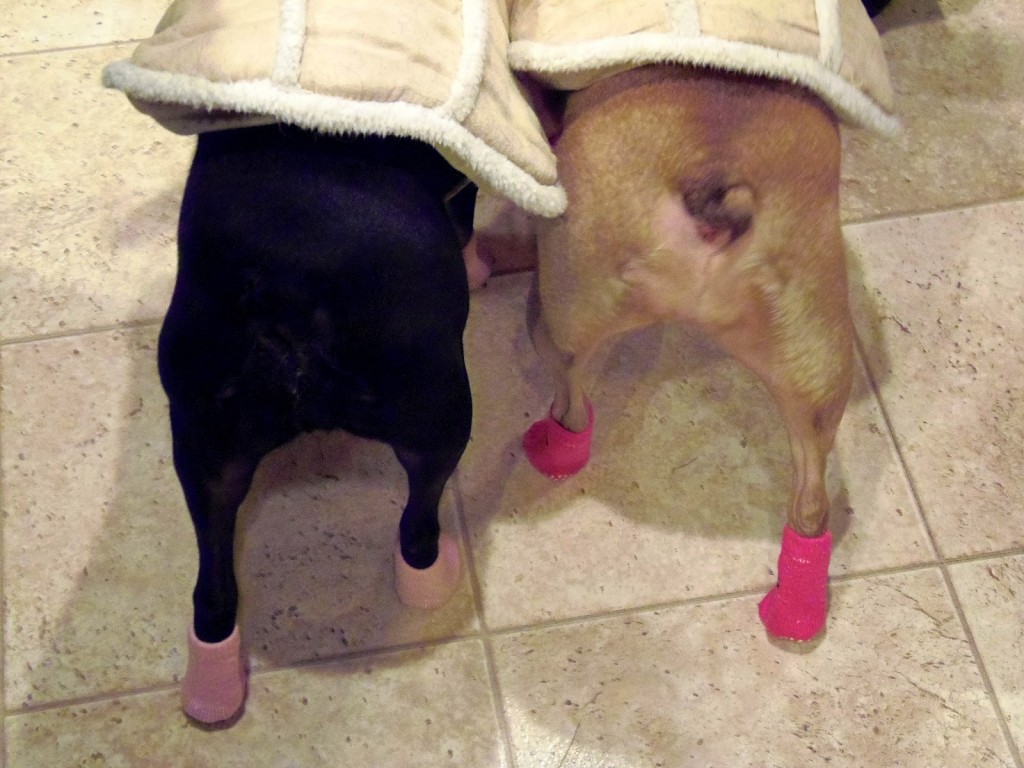 "So that's how we stay warm outside…"
"And this is how we (I) stay warm inside…" "I'm a little like a bear, and I tend to hibernate."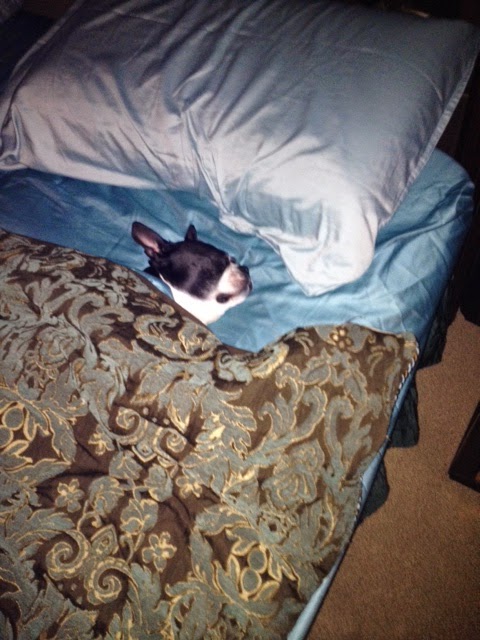 "And now you NOSE how I spend my long winter days!" WOOF!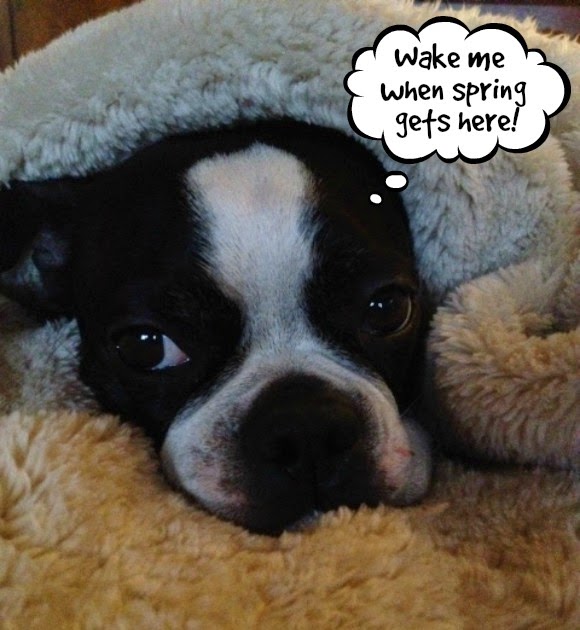 "Before I sign off Nutmeg asked me to tell you all hello." "In case you've been wondering about her, she seems fine." "She has her 6-month check-up with the oncologist next Monday so we'll know more then about how her cancer is doing."
"We're all very hopeful that the medicine has been doing its job, and that her tumors are vanishing." "Mom will make sure to give an updated after her appointment, and I'll bet Nutmeg will even do a 'News from Nutmeg' blog post." "In the meantime, here is a recent picture that mom took of the little Nut a few days ago…"
"See?" "Just as cute as ever, and we think she's maybe even lost a pound or two." "Here's to crossing our paws that that's a good thing!!" "Please continue to keep her in your thoughts and prayers." "We sure will appreciate it!"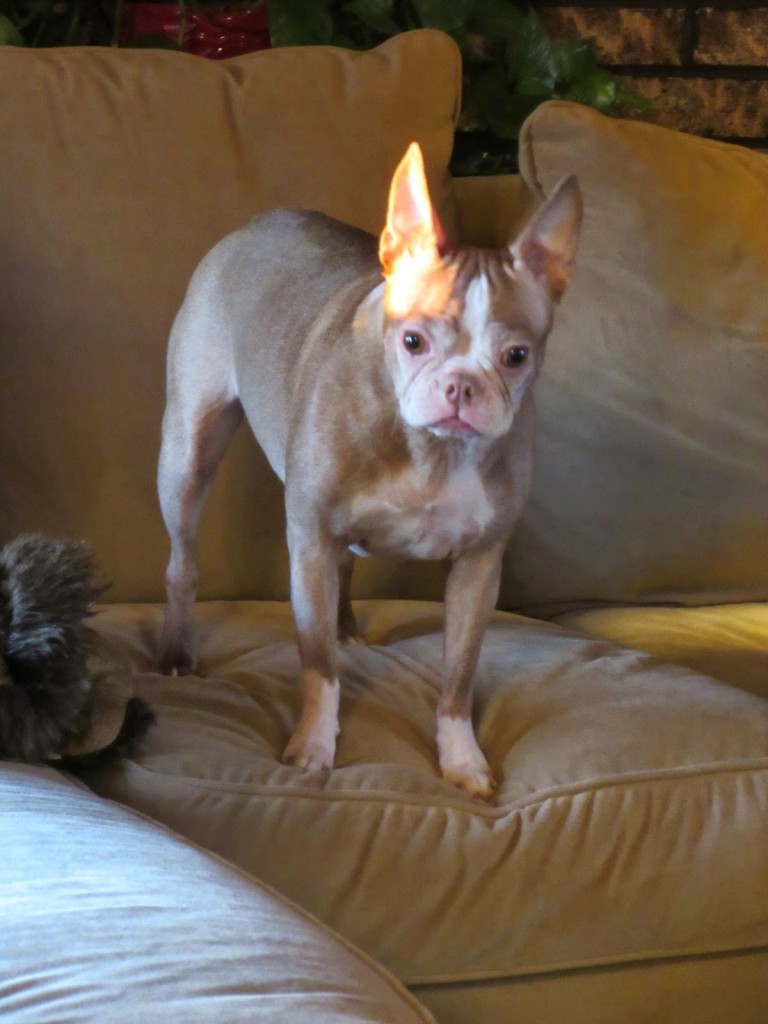 Readers: If you'd like your pet featured on an upcoming edition of Woof Wednesday – Pet Friends, I'd love to show them off for you to my readers. Please email us a photo (or more) of your pet (dog, cat, bird, lizard, fish, etc.) along with a little bit about what makes them so special to you, and I'll take it from there. Then, each Wednesday, I'll feature a new pet/pets from you, my valued readers. Because I'd like this blog to be as interactive as possible, what's better than sharing the pets that make us smile and fill our hearts with love?
Kudos Kitchen by Renée ~ Where food, art, fun (and fur) collide on a regular basis!
Thanks for visiting!
Until we WOOF again,
Ivy