Surprise the kiddos this back-to-school season by packing them a healthy edible necklace for lunch. It's a completely delicious and fun meal on a string that will be the hit of the lunch table.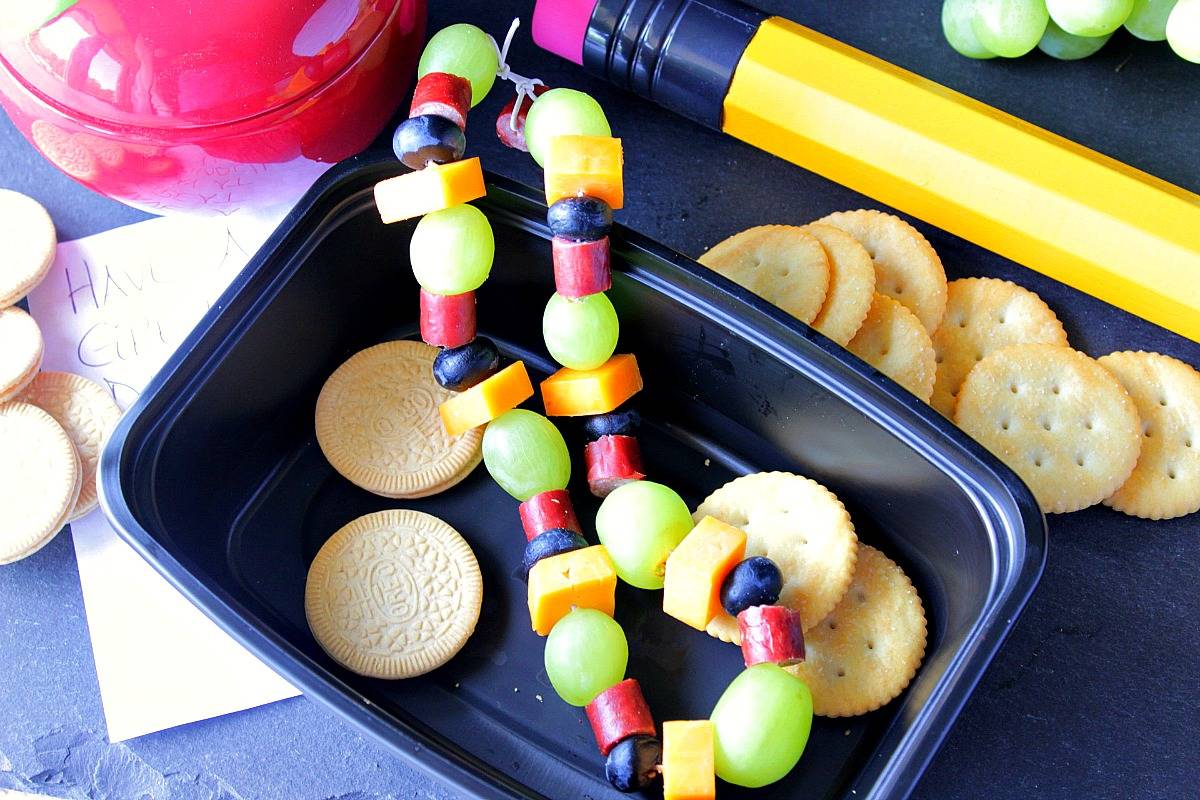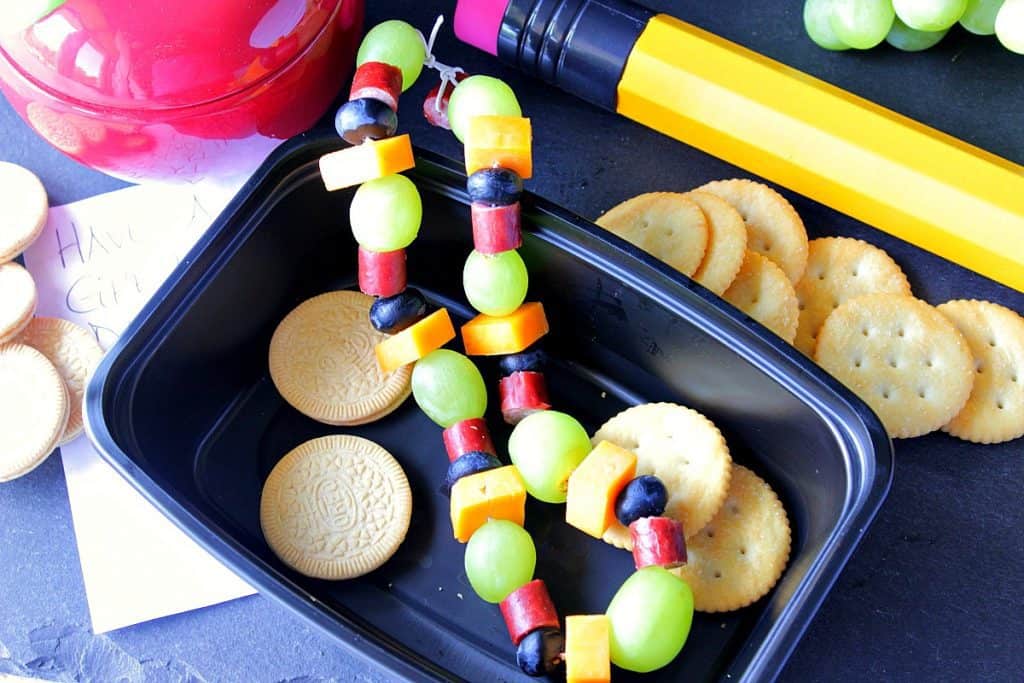 Imagine the delight on your child's face when they pull this healthy edible necklace from their school lunchbox! Not only will they be surprised and amazed, but they'll also probably be the talk of the lunch table among all their friends (in the best way, of course).
You can call this fun, and unique treat an edible necklace, but for me, I like to call it a healthy edible neckLUNCH! LOL Get it?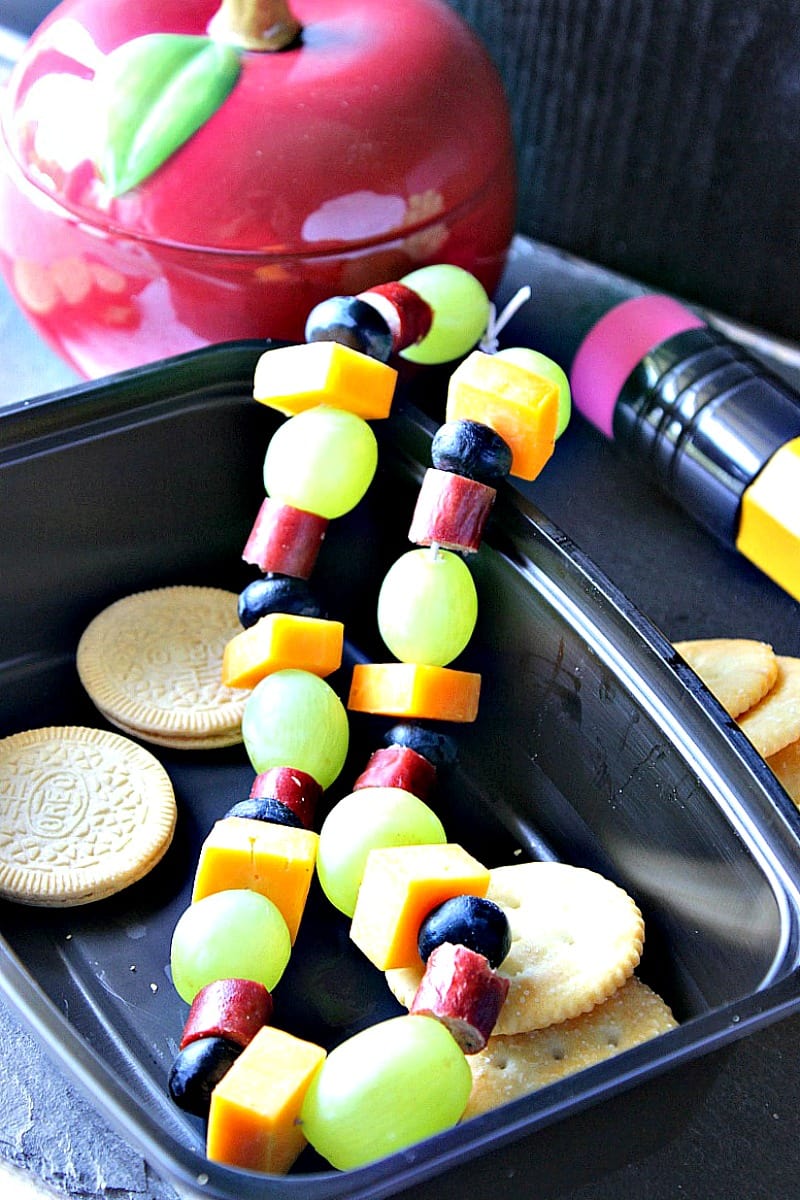 The idea for this healthy edible necklace came to me in the grocery store while I was looking a the grapes and immediately thought of them as green gems.
From there, the ideas flowed fast and furious through my brain and within minutes I had other all the other gemstone items in my cart, and my excitement to get home and bring this vision to life was growing rapidly.
The only other items I needed to make this edible necklace (besides the edible items), were the elastic thread and large sewing needed.
An additional quick stop in the store's hobby and craft area was just what I needed, and in no time I was home having a blast stringing grapes, berries, cheese, and sausage on the elastic cord!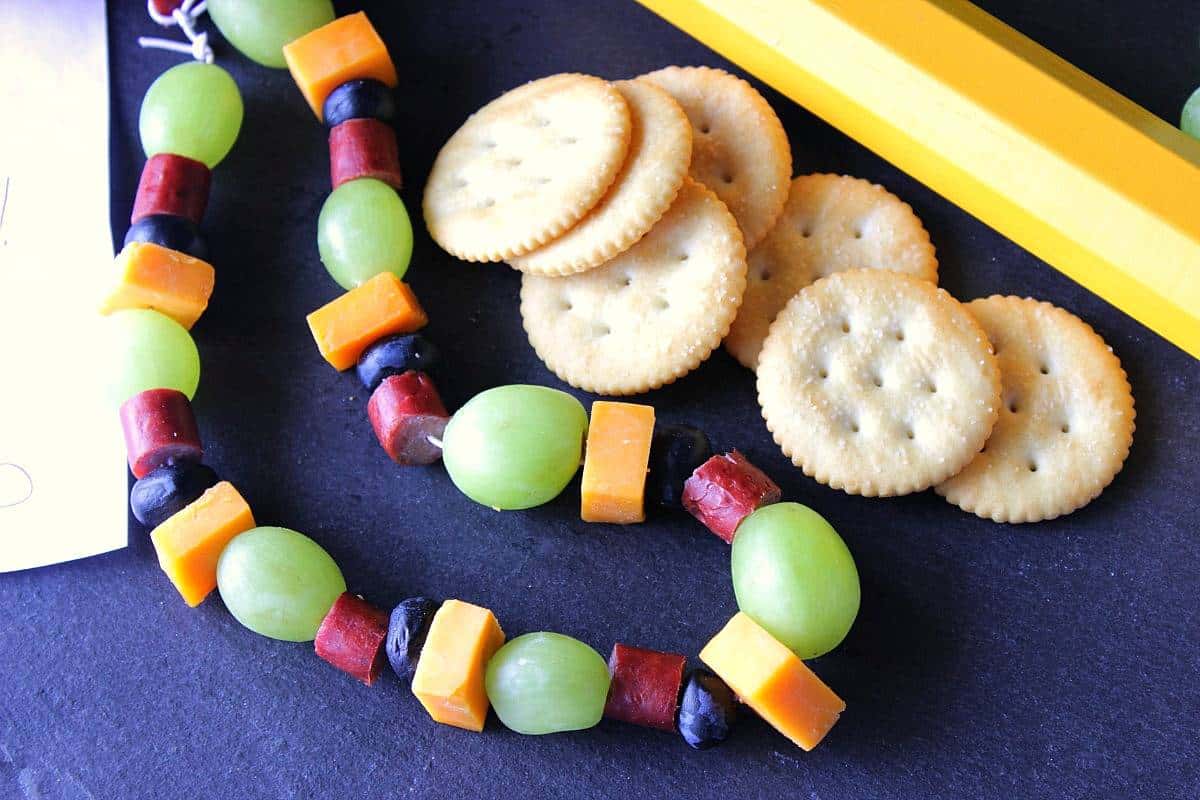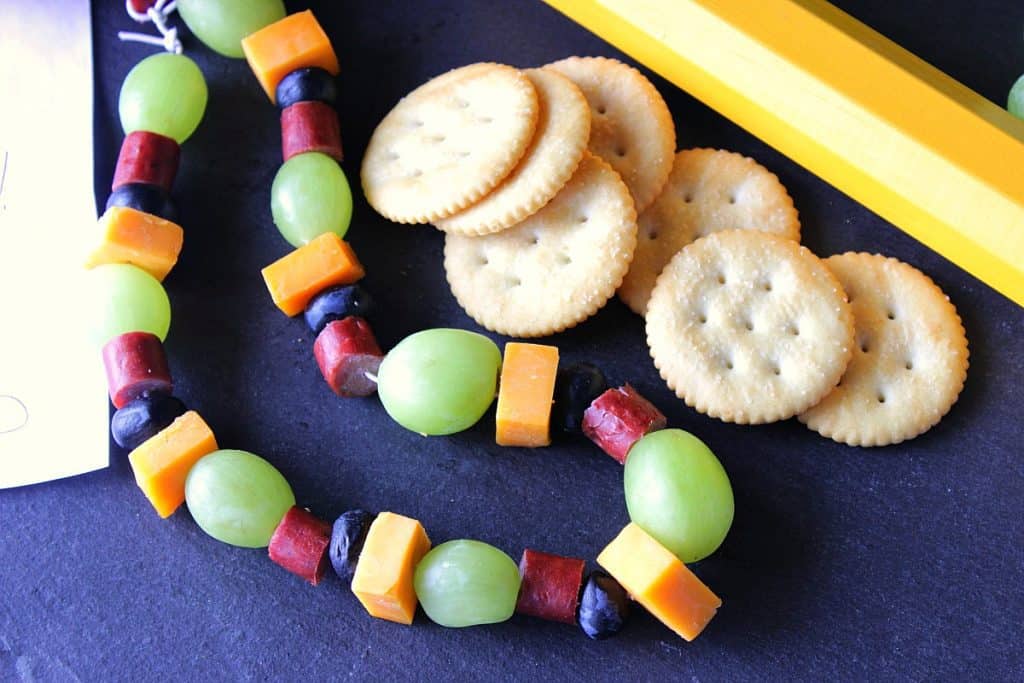 The way my mind works, the gems in the Healthy Edible Gemstone Necklunch are as follows; grapes = emeralds, cheddar cheese = topaz, sausage bites = ruby, and the blueberries = lapis. Why not, right?
Or, if you or your child have other favorite foods that would work being strung onto a necklace, I suggest you go for it and make it your own unique creation. Half of the fun is in the creation, and the other half of the fun is in the eating!


Making this Healthy Edible Necklace is more of a method than it is a recipe. As long as you use ingredients that will string easily (and stay strung) on the elastic thread, the rest is up to you.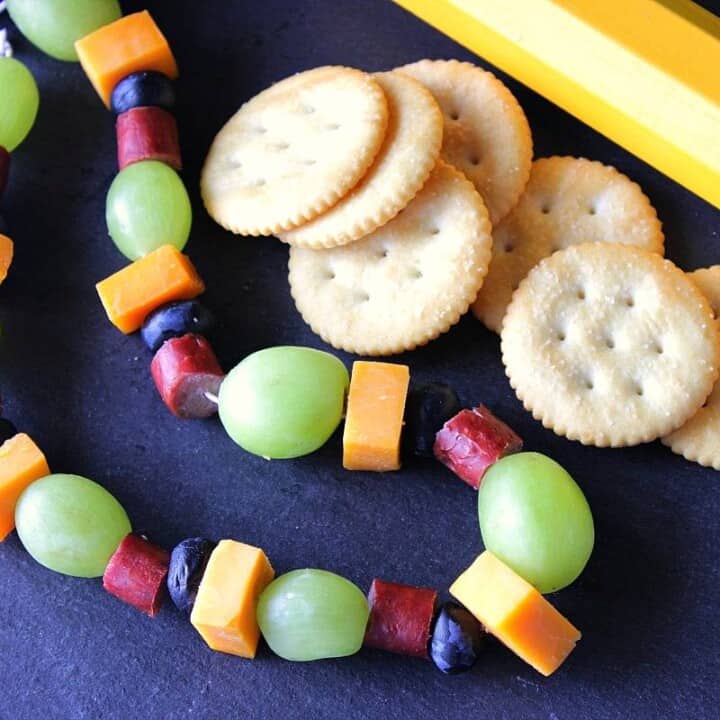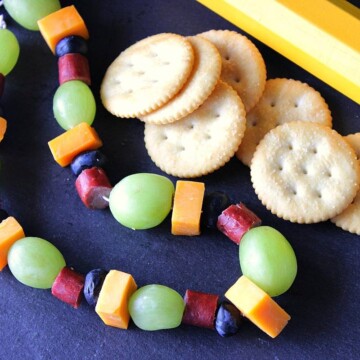 How To Make A Healthy Edible Necklace For Back To School
Surprise the kiddos this back-to-school season by packing them a healthy edible necklace for lunch. It's a completely delicious and fun meal on a string that will be the hit of the lunch table.
Ingredients
Elastic Thread

approximately 18" per necklace.

1

large sewing needed with extra large eye hole.

Grapes

Cheese cubes

approximately ½" cubes

Blueberries

Salami cubes

approximately ½" cubes
Instructions
String a salami cube onto the thread and tie it off at the end of the thread.

Continue stringing the remaining ingredients, in your choice of colors and patterns, until desired length.

Cut the thread and tie off to form a loop.

Pack the necklunch in a bag or box and keep cool until ready to eat.
Notes
Tools and equipment:
scissor, elastic thread, large sewing needle
Nutrition
Serving:
0
Carbohydrates:
0
g
Protein:
0
g
Fat:
0
g
Saturated Fat:
0
g
Polyunsaturated Fat:
0
g
Monounsaturated Fat:
0
g
Trans Fat:
0
g
Cholesterol:
0
mg
Sodium:
0
mg
Potassium:
0
mg
Fiber:
0
g
Sugar:
0
g
Vitamin A:
0
IU
Vitamin C:
0
mg
Calcium:
0
mg
Iron:
0
mg
Grapes are by far one of the best ingredients you can use to string on a Healthy Edible Necklace. To learn more about grapes and their wonderful health benefits for you and your children, please check out a recent post I did featuring Grapes from California.
Making 2017 The Grapest School Year Yet Featuring Grapes From California
I'm coordinating this post with my textured green grape wine glass. This is a design I painted several years ago, and it has been laying low for several years. However, now seemed like the right time to bring it out of retirement and it's available for purchase through my shop if you're interested.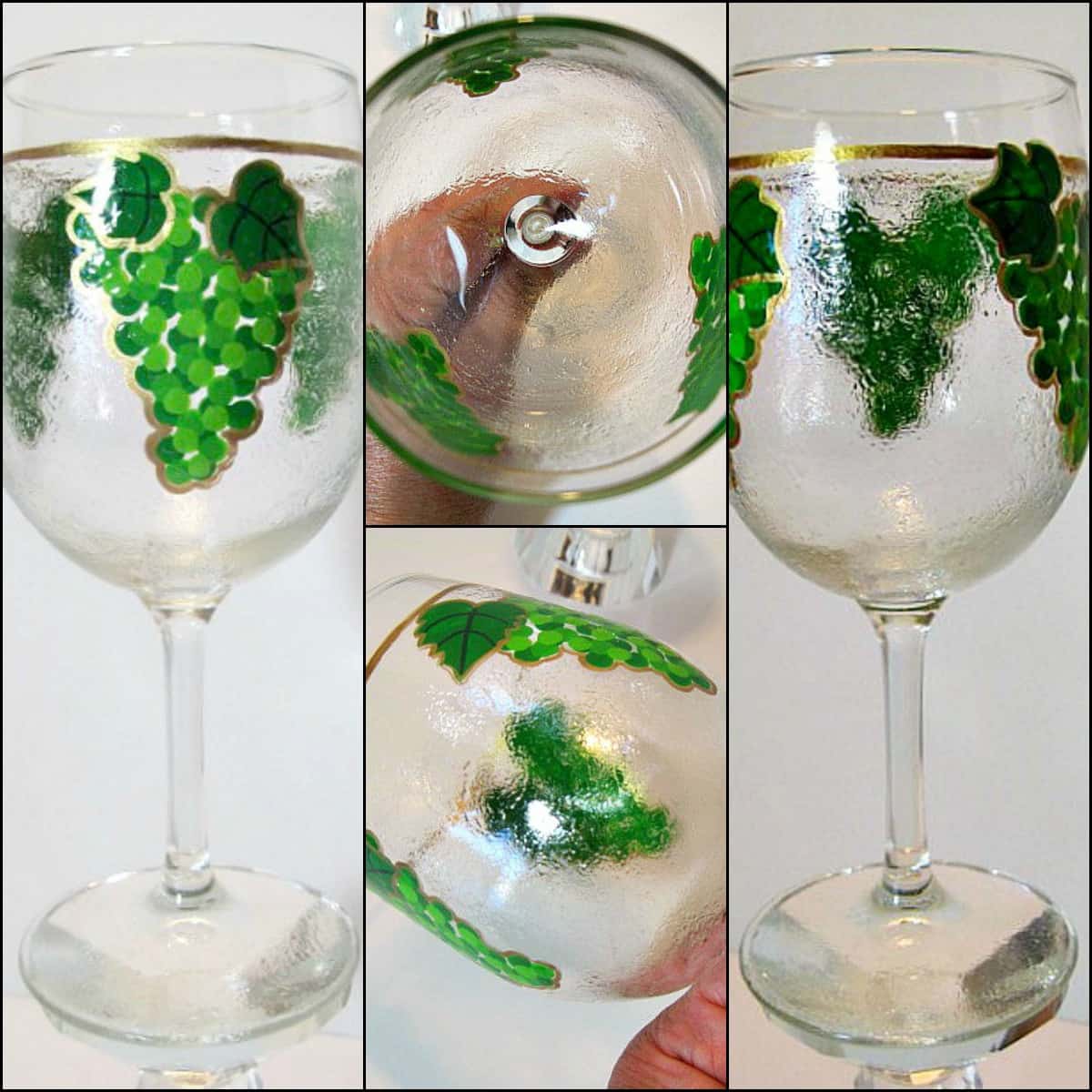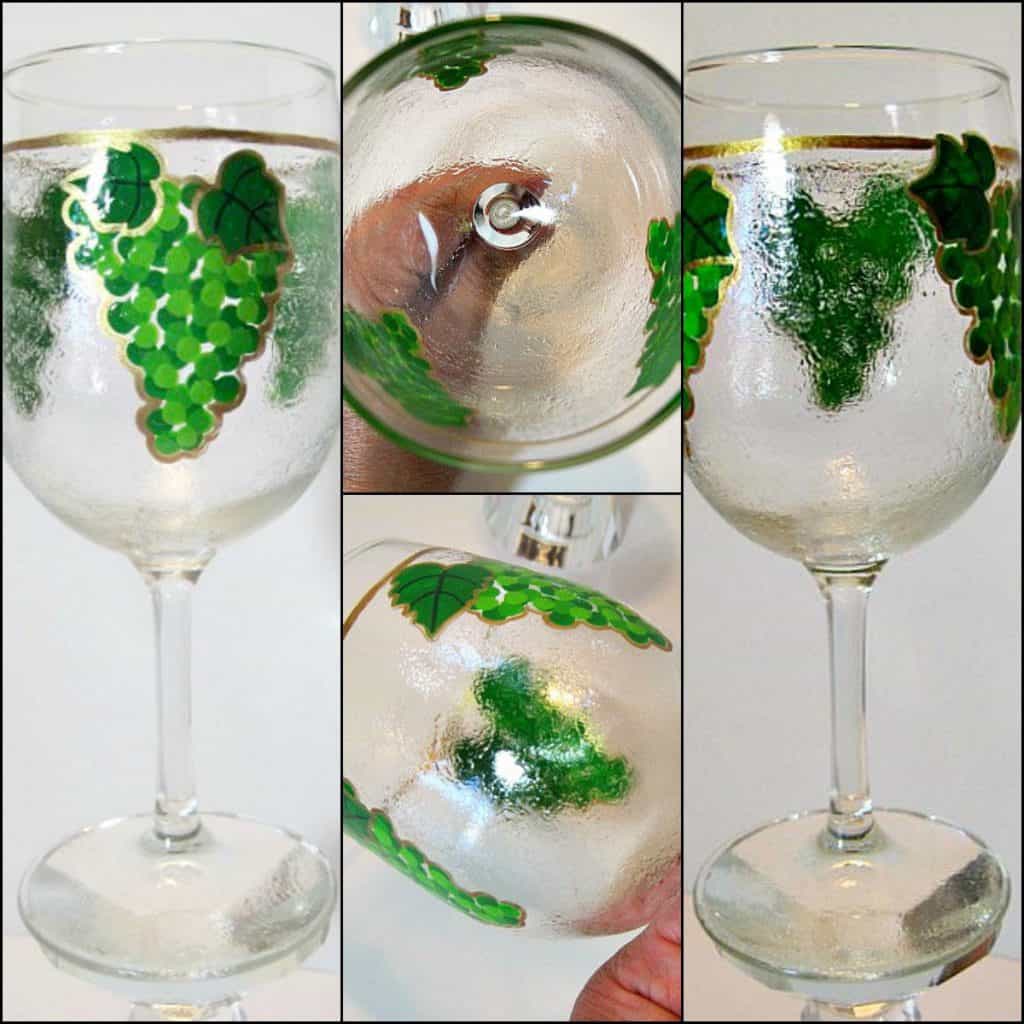 I sincerely hope you've enjoyed today's recipe/method for making a Healthy Edible Gemstone Necklace (neck-lunch) as much as I've enjoyed bringing it to you!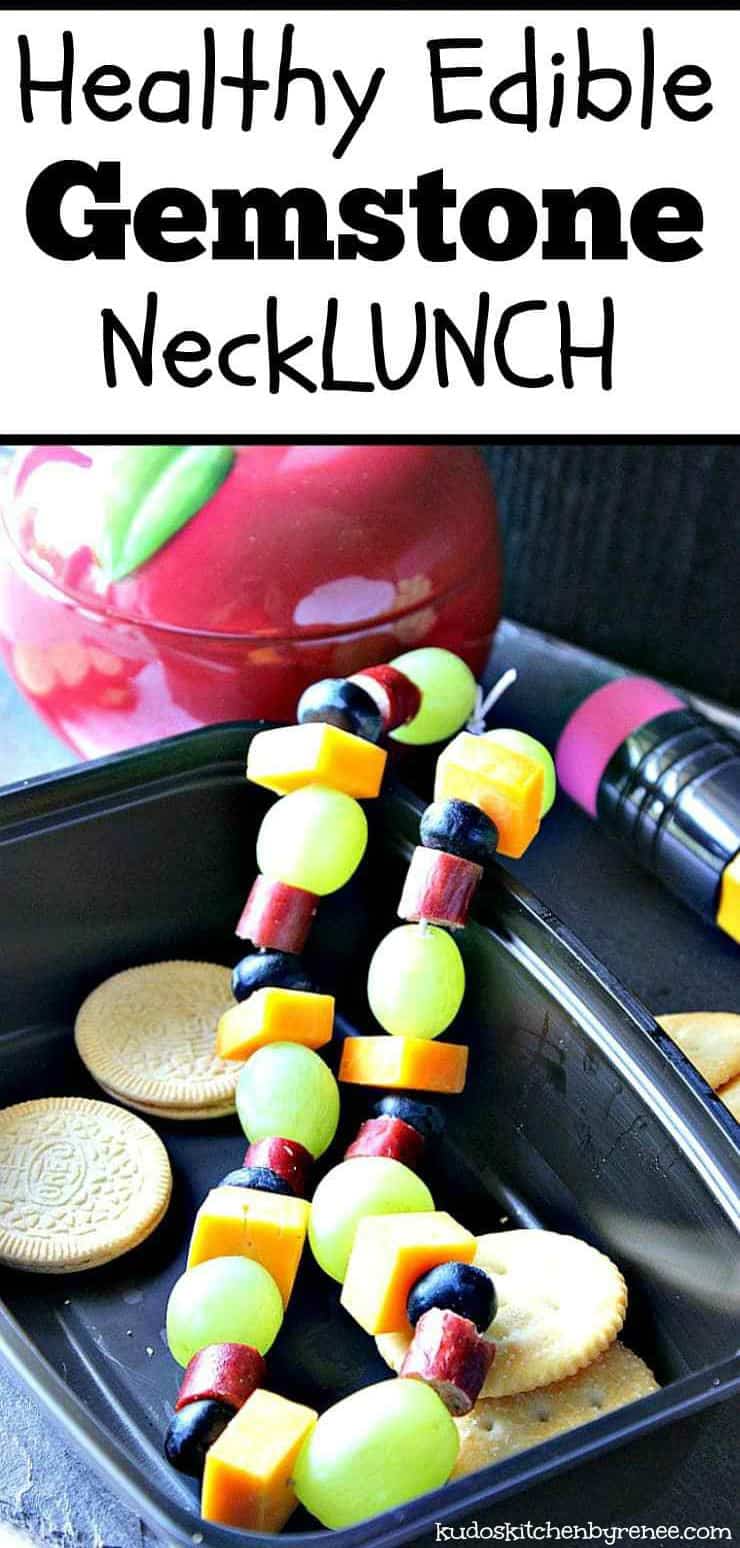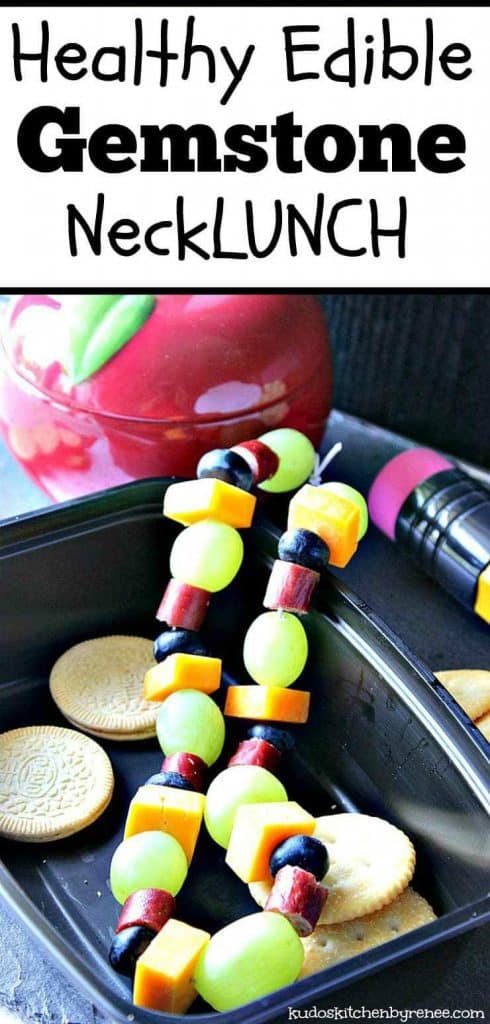 Should you have any questions regarding this recipe, or anything else you've seen on my site, please don't hesitate to contact me directly or leave me a comment in the comment section below. It is always my distinct pleasure to get back to you with a reply just as soon as I possibly can!
For additional information regarding my Kudos Kitchen recipes, and/or my hand painted glassware or fabric items, please follow me on;
FACEBOOK, PINTEREST, INSTAGRAM, TWITTER, YOUTUBE and MY PAINT SHOP
Kudos Kitchen by Renée ~ Cooking up artistically delicious family-friendly dishes from my Kudos Kitchen to yours!
Until we eat again, I hope you have a delicious day!