BIG NEWS!!! This is the very first guest poster I've ever had on my blog! EVER! I'm thrilled to be able to introduce you to fellow Chicagoan, Julie and her delicious recipe for Greek Pasta Salad! You'll find out more about Julie at the bottom of this post so don't forget to stop by and meet her. She's adorable!
Thanks for making dinner for me tonight, Julie. It was delicious! I really appreciate the help and have truly enjoyed having somebody else do the cooking 🙂
And now, here's Julie…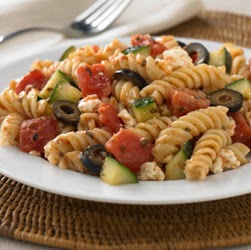 Every year at the end of May my street holds and annual block party for all the neighbors. It is celebration of the arrival of summer and the end of school for all the neighborhood kids. We all bring favorite dishes to share, and in years past we've all made the same family recipes. While there was certainly nothing wrong with last year's spread, this year the street moms made a pact to change things up and try a new recipe for the block party. I was assigned a side dish.
Now, you must understand that new recipes are a little outside my comfort zone. I spend a lot of time perusing recipe blogs with dreams of making new and unique dishes, but unfortunately that rarely happens. I usually stick to the Betty Crocker cook book my mom passed down, with all of her notes in the margins, but this time I took the leap and went wayyy out of my comfort zone: Greek Pasta Salad.
I decided on pasta salad because it is always my favorite outdoor party side dish. I chose a Greek variation because recently I've been having a love affair with feta cheese (I buy it by the pound).
This Greek Pasta Salad recipe may be one of the easiest yet most delicious things I've made in a while. Seriously, the whole process from start to finish took me about 30 minutes, and as you'll see, the recipe has two directions.
Thankfully, the recipe was a huge hit! You know that feeling when other people envy your kitchen prowess? Well I didn't before but now I definitely do. Everyone on the block loved the recipe, and I really wish I had doubled it to serve everyone because it went fast…like 10 minutes fast.
I have officially printed out the recipe and tacked it into my mom's cookbook for future use. I completely recommend this recipe for any outdoor entertaining or summer family meals.
Ingredients
12 ounces dry rotini pasta,
uncooked (12 oz = 4-1/2 cups)
2 tablespoons canola oil
2 tablespoons spicy brown
mustard
1 can (14.5 oz each) diced
tomatoes with basil, garlic and oregano, undrained
2 cups diced, seeded cucumber
(peeled or unpeeled; up to you)
1 can (2.25 oz each) sliced
ripe olives, drained
1 pkg (3.5 oz each) crumbled
reduced fat feta cheese
Coarse ground black pepper
Directions:
· Cook pasta according to package directions,
omitting salt. Drain and rinse under cold water until cool.
·
Meanwhile, mix together oil and mustard in large
bowl. Stir in all remaining ingredients, except pepper, until combined. Toss in
cooled pasta. Sprinkle with pepper, as desired.
Please leave a comment and let us know how the recipe worked out for you,
especially if you make any delicious variations!
About the Author:
Julie S. is a Midwestern gal from Chicago, IL and a lover of
warm weather and outdoor grilling. She
writes on behalf of Hunt's. Check out
the Hunt's website for great
tomato
recipes
and summer
grilling
recipes
for your next family dinner.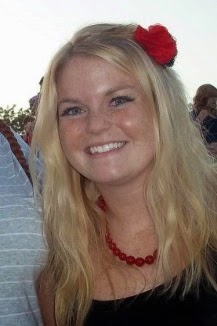 Until we eat again,