When my friend Jenny of Mad Rantings Of A Middle Class Mom decided to start a cooking group made up of fans of the new Food Network show host, Amy Thielen and her new cookbook "The New Midwestern Table", I jumped at the chance to cook along!
Our objective is to cook a new one of Amy's recipes, twice a month, and together we'll cook and bake our way through the entire cookbook. Fun, right? You bet!!!
The recipe Jenny is having us start with is Amy's Fried Onion Dip (found on page 28) which is literally one of the best dips I have ever made, or tasted! If you're a fan of the old school onion dip which was made with a packaged dry onion soup mix, this recipe will completely blow that dip out of the water!!!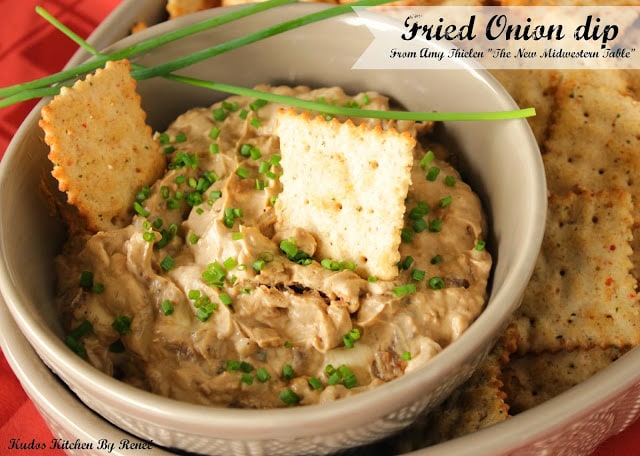 What makes this dip so much better than the one that comes out of a box you ask? Butter! Not just any butter mind you, clarified butter! That way "you can fry the onions at high heat and put a very dark, almost burnt crust on them." – Amy Thielen
Add to that a splash of white wine, cream cheese, Greek yogurt and a little bit of honey and what you get is an incredibly delicious dip with a hint of sweetness that rounds out all the other flavors into one delightfully pungent and creamy dip.
We brought this dip to a party we attended last weekend and people could literally not stop raving about how good it was! If it were my choice, I would have horded it all to myself and slapped away the hands of others that tried to get some for themselves. Wrong, I know but at least I'm being honest here. LOL
If you'd like the entire recipe for this dip (and trust me, you do), please check out Amy's cookbook "The New Midwestern Table" or watch her new show on the Food Network. You will not be sorry!
The next recipe we'll be making is from page 60 and it's Amy's recipe for Corn Fritters with Green Chile Buttermilk Dip. Oh My GOSH! I can hardly wait!!!
If you'd like to join us in cooking through Amy's cookbook, all you need to do is pick up your own copy of "The New Midwestern Table" and check out our groups facebook page for complete instructions.
When I think of the Midwest and the heartlands of this great country of ours, my mind immediately thinks of things like country kitchens and quilts. It is because of that fact that I wanted to share with you here a tile I made a few years back for a quilters blog. This photo is obviously not of the completed tile but was a work in progress. I hope you enjoy seeing it and that it makes you hungry for fried onion dip. LOL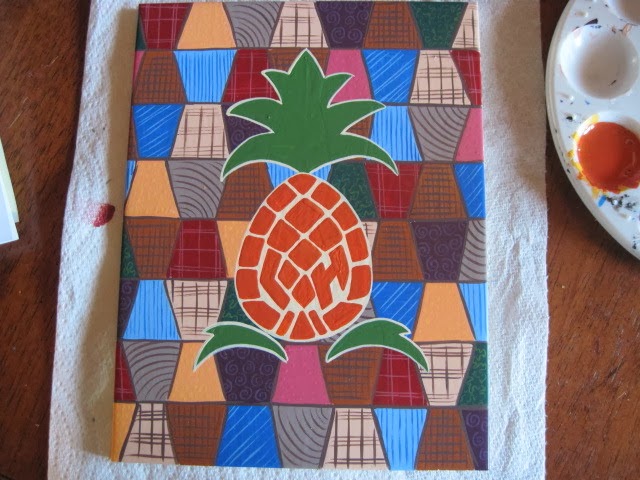 If there is ever anything I can paint for you (glassware or tile items), please don't hesitate to contact me… Kudos Kitchen By Reneé ~ Where food and art collide on a regular basis!