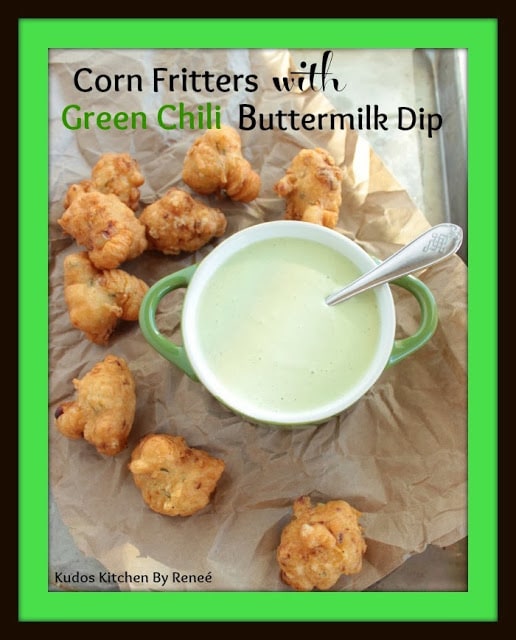 November 15, 2013 and it is time to post about the Corn Fritters with Green Chili Buttermilk Dip that our cooking group: "Cooking from The New Midwestern Table By Amy Thielen" all cooked, together (even though we're not actually "together", it kind of feels like we are)!

Our cooking club (for lack of a better word) is an avid group of cookbook enthusiasts who have vowed to cook our way through Amy Thielen's new cookbook: The New Midwestern Table ~ 200 Heartland Recipes. As you might recall our first recipe was just a mere 2 weeks ago and was Amy's Fried Onion Dip which received rave reviews from all who tried, and couldn't stop eating, it.
FYI, If you don't already know whom Amy is check out her new show on the Food Network called
Heartland Table
, and I promise you'll be hooked on her homey style and heart warming recipes!
I stuck pretty close to Amy's original recipe on this one except that I substituted Greek yogurt for the sour cream, raw honey for the sugar, I made my own buttermilk with milk and lemon juice, and because fresh corn is no longer in season, substituted frozen thawed corn for the ears of corn. Oh, I also fried the fritters in peanut oil and not canola oil….but other than that 🙂
Mix together the usual suspects of dry ingredients, along with some beer and tarragon, fry them up in some oil, and you have an amazingly light and flavorful fritter.
A delicious fritter does not stand on its own, though. To take these little pillows of flavor up and over the top, you need the green chili buttermilk dip which consists of a poblano pepper, fresh basil, garlic and the sour cream (i.e. Greek yogurt). WOW! Talk about flavorful!!!
I served mine alongside a nice bowl of homemade butternut squash soup one evening, and they were the perfect compliment to a healthy, meat free Monday supper.
If you'd like Amy's actual recipe (sorry, you'll not get it from me), go now and purchase your own copy of
Amy's book
. My purpose here was to whet your whistle, and I hope I've done just that! If, however, you'd like my adapted version of Amy's recipe, please leave me a comment and your email address, and I'll be thrilled to send it to you.
Next up on November 30th ~ Swedish Pancakes!!!
Until we eat again,